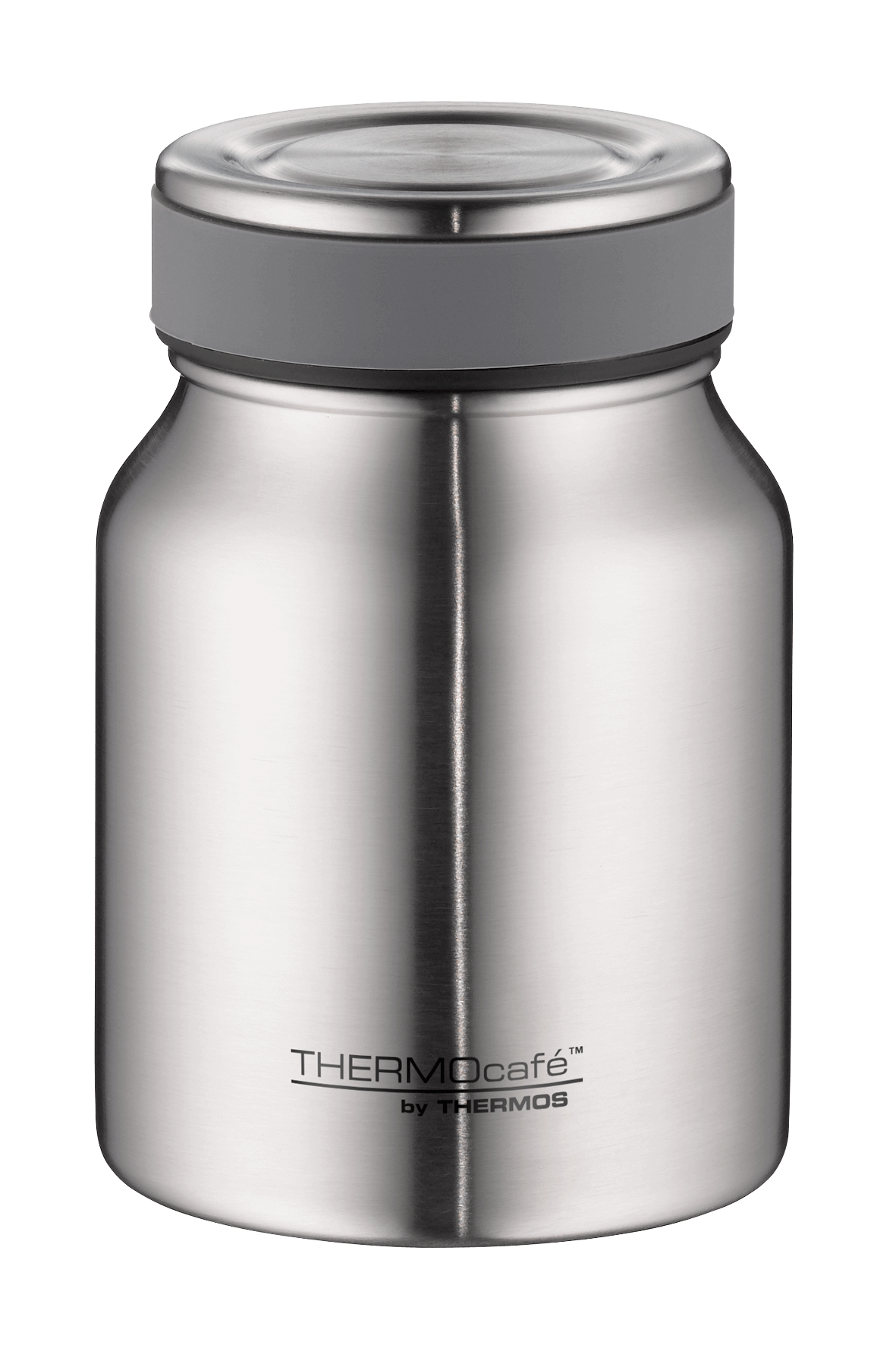 TC FOOD JAR
insulated food container
19 oz / 0.50 l
Features
Absolutely leak-proof for safe transport
Rubberized twist cap for easy opening without slipping
Food does not come into contact with the plastic: Interior cover made of stainless steel
Extra large opening, easy to fill
High-quality stainless steel body: unbreakable and absolutely taste-neutral
Uncompromising cleaning in the dishwasher (top rack)
Free of BPA
Material: Body made of double-wall 18/8 stainless steel, cap made of polypropylene, seal made of silicone
Dimensions (L x W x H ): 9.6 x 9.6 x 14.2 cm, diam. opening: 6.26 cm
Weight: 332 g
Recommended retail price: 27.95 €
Item number: 4077.xxx.050 (xxx=color)
2-year warranty for best insulation performance
Hot

Cold
Designs
stainless steel

cool gray

teal

sapphire blue

rosé gold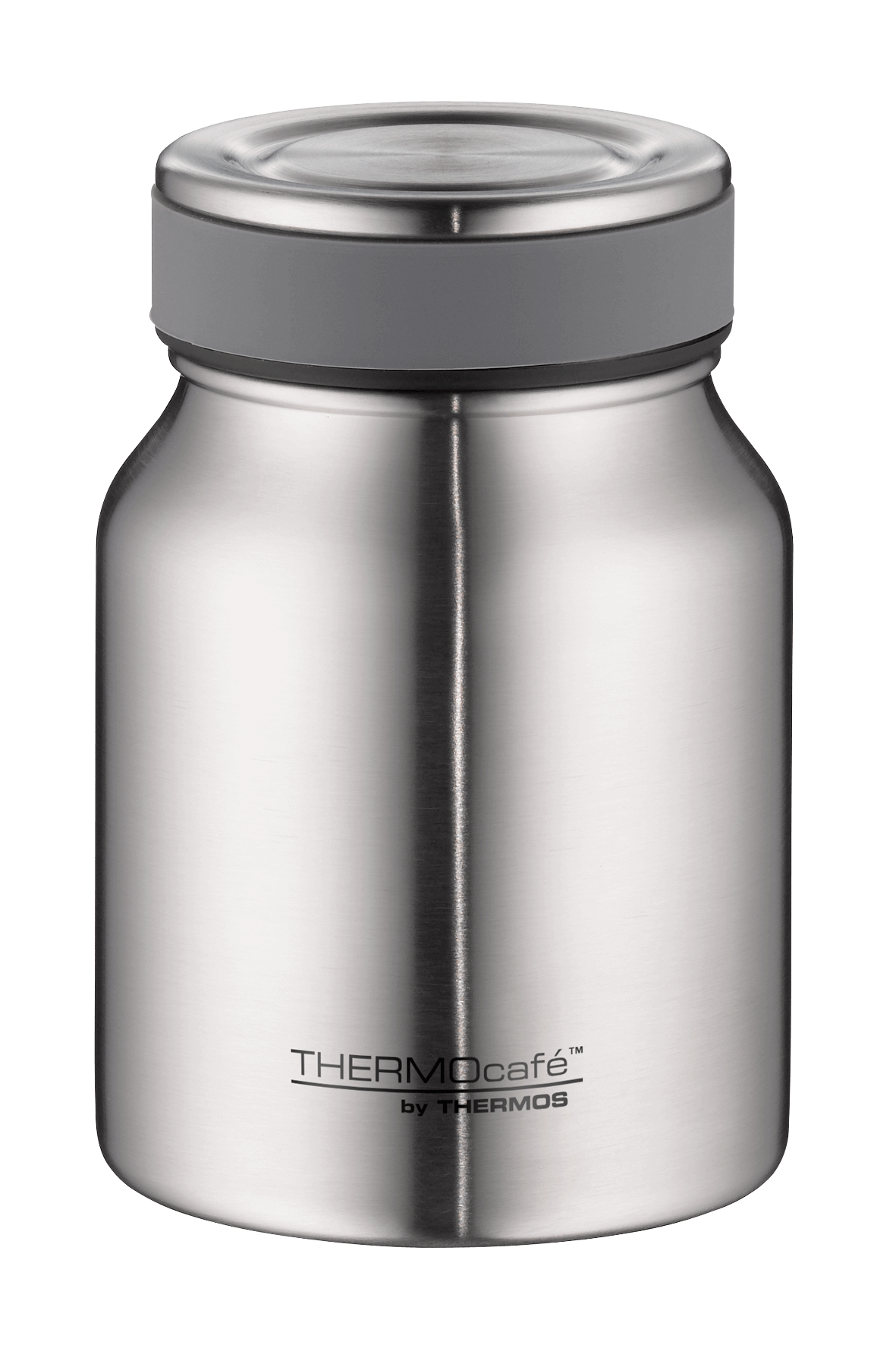 Thermos® TC FOOD JAR
THERMOS CONTAINER
For conscious city-dwellers, cafeteria meals or fast food are no longer on the menu: Make room for the TC Food Jar! The stainless steel mug is really appealing with its handy twist cap, inviting you to just grab it and dig in. A large opening, offering delightfully tasty stews and soups for hours at a time.
The TC Food Jar can do cool, too: Salads and desserts remain chilled for 14 hours. The modern food container made of impact and break-resistant stainless steel also stands out impressively in any situation between college, picnics and the workout.
Absolutely leak-proof, ensuring no catastrophic spillages, the cool food jar is your companion through downtown and your conscious daily routine. With a fill capacity of 0.5 liters, the stainless steel mug can hold not only snacks, but even a full lunch such as stew or pasta salad – and just like that, you've got healthy eating on the go. On top of that, you get true flavor thanks to the absence of any interior coating. Moreover, the TC Food Jar is free of BPA.
Large opening, huge taste – and there's something for everyone. At picnics, outdoor enthusiasts score points with dips and salsas from the modern food jar and then also get out the TC Bottle. Well supplied, enjoying a meal in the great outdoors can be such fun – especially with the TC collection
And pure joy continues even after the meal: All TC products from THERMOS® allow cleaning without compromise in the dishwasher. And where are we headed tomorrow? The TC Food Jar accompanies students easily throughout the entire length of their studies and beyond.
In this case, everything simply revolves around sustainable comfort. The rubberized twist cap ensures a good grip without slipping and the secure stand ensures uncomplicated enjoyment from the food container.
The TC Food Jar is reliable, durable and even as part of the daily routine sports itself as the latest star with its many #builttolast properties. Enjoying sustainably without generating trash tastes good day after day.
Find a Dealer
Support your local dealer!
Our dealer search easily shows which dealers carry THERMOS®.